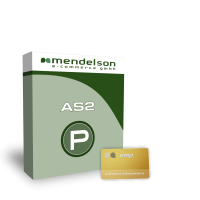 mendelson OFTP2 license, enterprise HA, subscription supports the OFTP2 communication for your environment.

The number of connections, partners and transactions is unlimited.

Single Server, Java, Cross-Platform
This include the REST API plugin, converter plugin, Engdat plugin and PostgreSQL database plugin.
With the converter plugin it is possible to convert your data before sending it to a partner or after you have received it from your partner into or from any known EDI format, also all inhouse formats.
The database plugin allows you to replace the internal supplied HSQLDB database with an external database system (PostgreSQL), which of course can also run on another system.
The Support and Maintenance Package(SMP) is included.
The subscription license price is 429- Euro per month. The initial fee is 149,- Euro.
The price for one year is 5148,- Euro.
Prices are in EUR, without taxes.