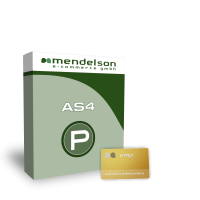 mendelson AS4 license, professional supports the AS4 communication for your environment.

The number of connections, partners and transactions is unlimited.

Java, Cross-Platform

This include the JAVA API, the OAUTH2 plugin and the PostgreSQL database plugin.
The database plugin allows you to replace the internal supplied HSQLDB database with an external database system (PostgreSQL), which of course can also run on another system.
The subscription license price is 299,- Euro per month.
The Support and Maintenance Package(SMP) is included.
The price for one year is 3 588,- Euro.
Prices are in EUR, without taxes.
Please use this link if you want to buy it for less then one year.